Computerized Maintenance Management Systems (CMMS):
Data research and development for CMMS is just a sampling of the support services offered by ATS. We can fully implement a CMMS system or provide technical and consulting support for the wide range of programs on the market. Whichever system you are currently using, we have the experience you need to maximize your maintenance management operations.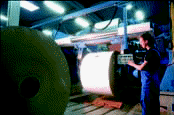 On-Site Inventory Help:
Having the right part at the right time is crucial to avoiding prolonged equipment shut-downs. ATS can help manage your inventory by creating and setting up receiving and disbursal procedures; identifying, tagging and bar coding your spares; providing storage area recommendations; offering tool ID and inventory plans; and coordinating associated inventory to the equipment hierarchy.
Technical Writing:
The difference between knowing what needs to be done and having the plans at your fingertips can often be worlds apart. ATS can document your plans with our expert technical writers. We can prepare clear and precise Safe Job Procedures (SJP's). We can also create manuals for equipment repair, as well as Standard Operating Procedures (SOP's), Preventive Maintenance Procedures (PM's). While you may know all of the procedures--safe job, standard operating, preventive maintenance, LOCKOUT-TAGOUT (LOTO)--your organization demands that they be documented. No problem. At ATS, technical writing is crafted by expert writers who know the manufacturing industry. Documenting your thoughts is what we do best.
Data Entry Services:
Time can be on your side. With ATS you can avoid spending your staff's quality time on tasks such as data transfers and scanning projects. We offer a full range of data entry services such as parts inventory, equipment hierarchy and generation of database reports. And our employees, not bogged down with your organization requirements, have the time to pay attention to detail, a key element in successful management.
Whether your plant needs turnkey services or simply wishes to augment internal resources, ATS has both the experience and manpower you need to keep operations running smoothly.
Consulting Services:
Experience counts. The true benefit of working with ATS is the varied experience across a range of maintenance and operations management. With ATS, our consulting and planning services can help you identify needs and make recommendations to keep your equipment running at peak performance. We can also prepare written specifications for equipment under purchase consideration as well as coordinate contractor's efforts concerning outages or off-site repairs. The advantage of ATS is an objective, complete evaluation of the maintenance management needs of your organization, coupled with sound, cost-effective solutions to keep your operations running smoothly.
Temporary Management Services:
Keeping your operations fully staffed is another distinct service available through ATS. We retain some of the most experienced managers in the Midwest. And whether you need temporary management support in the mechanical, electrical, or operations field, ATS can help find the perfect match for you and your facility. More importantly, our experts can stay as long--or as short-- as you need them.
Call us toll-free 219-738-1700
gary@atstechnical.com